An Outdoor Town is – above all – a place that brings people together through nature.
---
.
Outdoor Towns are fun and welcoming. They invite all people to come play outside. 
.
Outdoor Towns have easy access to recreation. Visitors come for hiking, biking, paddling, hunting, fishing, or wildlife viewing.
.
Outdoor Towns embrace nearby parks, trails, rivers, lakes, and forests as valuable assets to be protected and enhanced.
.
Outdoor Towns are vibrant communities that connect places to eat, stay, and shop with people seeking adventure.
.
This toolkit will help you turn your community into an Outdoor Town and take advantage of the opportunities right in your backyard.
.
---
Benefits of Being an Outdoor Town
Economic – According the 2017 National Recreation Economy Report, outdoor recreation is an economic powerhouse in the United States, each year generating $887 billion in consumer spending and 7.6 million jobs.
Quality of life – A walk-able and bike-able community offers transportation choices to all citizens regardless of age, ability, or socio-economic status. Community walkability is a major factor in families' decision to move to a town, and studies show that shops experience up to 80 percent more business if they have regular foot traffic.
Health – Doctors all agree that outdoor recreation is good for mental and physical health. Some doctors have even started prescribing walking on trails to help cure patients.
Guiding Principles for Outdoor Towns: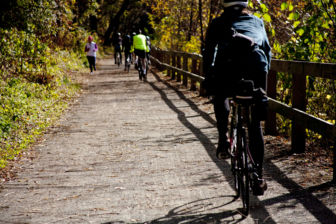 Parks, trails, rivers, lakes and forests are valuable resources that are the basis of a healthy Outdoor Town and Economy, they should be protected and enhanced.
The community is responsible for creating and implementing its own Outdoor Town Vision and Action Plan
Success depends on Leadership, Teamwork and Partnerships.
---
Essential Ingredients of a Great Outdoor Town:
Outdoor Recreational Assets such as a trail, river, lake, park or forest that provide opportunities for hiking, biking, horseback riding, wildlife viewing, paddling, hunting, fishing, skiing, snowshoeing, etc. These assets may be located within your community or nearby.
Intuitive Connections that provide easy access from the recreational assets to town. This could be an in-town bike path that connects to a nearby long-distance trail, an in-town riverfront park with a boat access point on a water trail or lake, or a scenic highway between town and a State Forest or State Park.
Safe Streets for Walking and Biking with clearly marked pedestrian crossings and bicycle paths, and conveniently located bike racks and benches encourage exploration of downtown.
People and Leadership committed and organized to making their town more accommodating for recreational users. They should include business owners, volunteers, elected officials, and municipal staff, who are working on projects to make their Outdoor Town Vision a reality. Action Teams are a great way to get organized for success.
A Vision and Plan for the Future established through community consensus that keeps everyone rowing in the same direction. An Action Plan with priority projects helps to garner the resources needed to implement improvements.
Collaborative Partnerships among recreational asset managers, downtown groups, planning agencies, visitors bureaus, and municipal governments to develop improvement projects.
Sustainable Practices that respect, protect and maintain natural and recreational resources. These may include stewardship and maintenance activities, tree plantings, rain gardens, public recycling containers, clean-up events, energy and land conservation, and ordinances.
Businesses and Services to Support Outdoor Recreational Users who need places to eat, stay, and stock up for adventure. You many finds gaps in services and will need to develop a Business Attraction Strategy to fill those gaps.
Gateways, Signage, and Visitor Information to help recreational users enjoy outdoor adventure and find the goods and services they need. Welcoming gateways to town, trailheads, wayfinding signs, maps, brochures and lists of services attract people and make their explorations more enjoyable.
Promotion of the Outdoor Friendly Character of Your Town that gets the message out to recreational users through websites, social media, visitors bureaus, etc.
(Adapted from ATA Trail Town Guide and critical success factors from our research)
It's a fun and welcoming place to outdoor enthusiasts, with easy access to recreational activities like hiking, biking, paddling, hunting, fishing, or wildlife viewing. The town embraces nearby parks, trails, rivers, lakes and forests as valuable assets to be protected and enhanced. It has places to eat, stay and stock up for adventure.
Support for this project was provided by the William Penn Foundation.