A River Town Creates Stronger, More Natural Connections
Lewisburg is a historic community located on the banks of the West Branch Susquehanna River. The community's well-preserved architectural styles, and Bucknell University add to its vibrancy and charm. But despite being on the river, the town didn't have much of a connection to the river, what it did have was flooding. By the early 2000's a neighborhood along Bull Run, a channelized stream, had fallen into disrepair from repeated flooding. Many houses were rentals occupied by college students. Bucknell Trustees concerned in part over the safety of students living in substandard houses decided that all students must reside on campus in an academic atmosphere.
Community leaders recognized if they did nothing, the neighborhood would continue to decline, and the loss of students in town would have a negative impact on businesses. Community leaders formed a Task Force to study the issue and develop a plan.
The plan for transforming the Bull Run Neighborhood into a safe, clean, and green corridor between campus and downtown was complex and would take time. Lewisburg Borough is small, with a population of 5,700 and only a few municipal administrative staff people. The Lewisburg Neighborhoods Corporation (LNC) was formed to help implement the plan. To build its capacity, the LNC obtained training on community revitalization and five years of funding for a full-time manager from Pennsylvania Downtown Center as part of the DCED-sponsored Elm Street Program.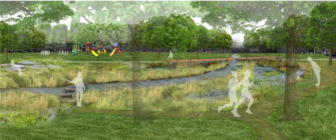 A central component of the plan was the Bull Run Greenway that would be created by expanding existing park and trails, adding nature play areas, and restoring the natural floodplain. This required removing houses through FEMA's Flood Mitigation Assistance Grant Program.
"We tackled the projects we could, but a lot hinged on getting houses removed from the floodplain, and that was a five-year process working with FEMA," said Elm Street Manager, Sam Pearson. "People that had been involved during planning were dropping away while we were waiting for FEMA. It is difficult to keep momentum going when you have a big project that involves a long process. Our five years of funding from the Elm Street Program also ran out and we could only afford a part-time manager. That is why it is important to also have smaller projects that engage volunteers in making progress toward your goals."
While waiting for the flood buy-outs, the LNC expanded its work to the North Ward Neighborhood, where residents wanted improved access to the river. About the same time, the Buffalo Valley Rail Trail opened, running from the outskirts of Lewisburg westward 9 miles into downtown Mifflinburg. This sparked interest in extending the trail into downtown Lewisburg.
The LNC sought assistance from the River Towns Program of the Susquehanna Greenway Partnership for holding a River Town meeting and forming a River Town Team. At the meeting residents were given the opportunity to mark on maps concerns they had and improvements they wanted. Breakout groups discussed different topics – community life, economic development, the built environment, and natural resources — but the priorities of all the groups were consistent:
connecting to the river — river access
connecting the Rail Trail to the river
developing walking/bike routes along the river
improving biking and walking infrastructure
facilitating community-initiated gatherings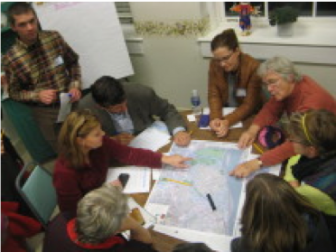 The River Town Team met monthly to prioritize projects and create an Action Plan. First priorities were to create awareness, keep people engaged, and build support through river clean ups, community picnics in riverfront parks, and media releases.
"Regular meetings of the Team, with good follow-up actions are important to keep projects moving, but it's hard to get people out for meetings. Communication through your website, social media, and email is essential." said Pearson. "You can get people to attend public input meetings for major projects by designing them so people learn things, feel like the were able to contribute, and know that they were heard."
As the River Town Team continued planning, it was clear that the interests of the group were divided between river access, greening initiatives, and bike/pedestrian issues. A Green Team and a bike/ped team called Walk It! Bike It! Lewisburg were created to further those interests.
"We have a cycle of planning, creating action teams, securing resources for projects, doing projects, and evaluating our work, then the cycle repeats. That cycle is important, so is engaging people in projects they care about," said Pearson.
The Green Team is working on riparian buffer plantings and controlling knotweed along the River. The River Town Team is working on Lewisburg Landing, a river access project including a boat rack, signage, a loaner kayak program, a hammock, and two picnic tables. Walk It! Bike It! Lewisburg is working on bike/ped maps, safety trainings, walking/biking events, a bike/ped plan for Lewisburg, and regional planning initiatives. With over $1.3 million secured in grants, construction is about to begin on the trails, nature play area, and floodplain restoration of Bull Run Greenway.
"None of this would be possible without the LNC and having common goals with our elected officials," said Lewisburg Mayor Judy Wagner. "We are making it easy to be active in the outdoors and live a healthy lifestyle. That is a huge draw for people to come play here and live here. That is good for all of us. The LNC has really facilitated it all."
Lessons Learned:
Be proactive in addressing decline in your community. Positive change requires positive people working together.
Community improvement is achieved through a cycle of planning, creating action teams, securing resources for projects, doing projects, and evaluating the work. Then the cycle repeats.
Civic organizations and action teams, working in concert with municipal leaders, can increase the capacity of a community to envision, plan and implement improvement projects.
Regular meetings of action teams, with good follow-up actions are important to keep projects moving, but it's hard to get people out for meetings. Communication through your website, social media, and email is essential.
Engage people in projects they care about and continue to recruit new people to be involved.