A River Town Reinvents Itself To A Greener Place To Live
Etna Borough is located along Pine Creek and the Allegheny River across from Pittsburgh. The town was named for the volcano Mt. Etna, an allusion to the blast furnaces and steel mills that once lined its shores.
"Etna has always been an industrial town, very urban, with lots of buildings and pavement," explained Mary Ellen Ramage, life-long resident of Etna and its Borough Manager. "When I was a kid, we had to travel outside of Etna to enjoy greenspace and nature in a park setting. In its heyday, Etna had huge, rich steel mills and a population of 12,000. After the mills closed and state highway projects cut through our community, our population dwindled to 3,400. The old industrial sites were hideous. You think, this is what being an old industrial town feels like, it takes your jobs, your businesses, your people and leaves you with large unusable buildings, concrete and blight. We were down on our luck."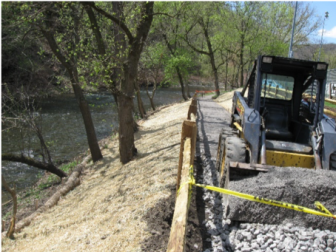 Thanks to the town's leaders, things started to change. Mayor Dougherty dedicated himself and his salary as mayor to Little League and worked tirelessly for funding to build a deck hockey rink. A flood in 2004 caused severe streambank erosion behind the ballfield along Pine Creek, an area that wasn't easily accessible. Funds were soon secured from the Pennsylvania Department of Environmental Protection (DEP) to stabilize the streambank.
"During that project, we noticed people had worn a path to the creek, but the area had lots of debris and I was concerned about their safety," said Ramage. "In 2006 we used part of the DEP funds and funds from the Department of Conservation & Natural Resources to build the Dougherty Nature Trail, which included benches, doggie bag stations, and owl boxes. The trail was instantly popular. People started having wedding pictures taken there, kids were fishing there. That little project opened up our eyes, and we began writing a new, greener narrative for our town."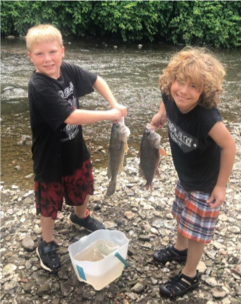 Ramage began participating in regional municipal groups to learn from other community leaders and give Etna a voice at the table. "I shared what I learned with our Borough Council Members so they can make informed decisions," said Ramage.
Part of Etna's flooding issues are due to a combined stormwater and sanitary sewer system that causes overflows to Pine Creek and basement backups. Leaders decided stormwater projects had to be their number one priority. When the Pennsylvania Environmental Council launched the Allegheny River Towns program in 2010, Etna enthusiastically joined. A group of 30 volunteers and borough council members participated in the River Town planning process.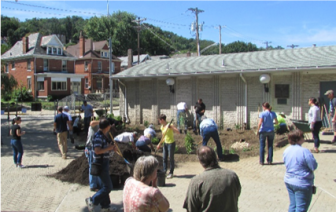 "The process made us look at our community beyond the traditional government services such as snow plowing, grass cutting, and paving," said Ramage. "River Town meetings were the first time we looked at things more holistically, and a very diverse group of people came out to participate. We listened and learned a lot about what they wanted, including a riverfront park, rain gardens and community gardens. Being inclusive and having Council Members show their commitment by rolling-up their sleeves to work, has engaged a lot of volunteers to help with projects. Many of the projects in our River Town Plan are completed or in progress."
The riverfront park project area is cut off from town by railroad and highway overpasses. It is a critical link in the Three Rivers Heritage Trail that runs along the rivers in Pittsburgh, that will eventually be part of trail system extending up to Erie. Etna leaders worked with the regional trail champions, Friends of the Riverfront and Darla Cravotta of Allegheny County Economic Development, to buy a key riverfront parcel, negotiate a trail crossing over the railroad, and secure $1.6 million for park and trail construction. According to Cravotta, "if a town doesn't want the trail, we don't want it, because they will have to own it and maintain it. Etna has been bought in from the get go."
Etna is attracting new, younger residents into leadership roles. Robert Tunon who works as an architect in Pittsburgh, moved with his wife Megan and two sons to Etna a few years ago. "We wanted a town close to and connected with the city, that had the scale of a neighborhood, is walkable, and affordable," said Tunon. "When we were looking at a house to buy in Etna we could hear children playing deck hockey. There was a pool, playground, and nature trail. What Etna is now and what it is becoming is what drew us to it."

Robert is now Etna's lead in a tri-borough Eco-District planning effort and Megan serves on Borough Council.
"Etna has many long-standing leaders that have fostered a forward-thinking culture and brought us to where we are," said Tunon. "My hope is to keep that positive and inclusive momentum going."
"I have been a borough manager for 41-years," said Ramage. "It's so nice to see the revolution of this town, see young people involved, see wildlife returning to places they had been pushed out of. It energizes and inspires me. A River Town is a cool place to be."
Lessons Learned:
By opening your eyes to nature and thinking holistically you can write a greener narrative for your community.
Green infrastructure projects have multiple benefits – reducing flooding, improving air and water quality, providing recreational opportunities and wildlife habitat.
Proactive and inclusive leadership encourages citizens to identify the change they want to see in their community and get involved in making that change happen.
Start with small projects that achieve results quickly. This will build support needed for larger projects.